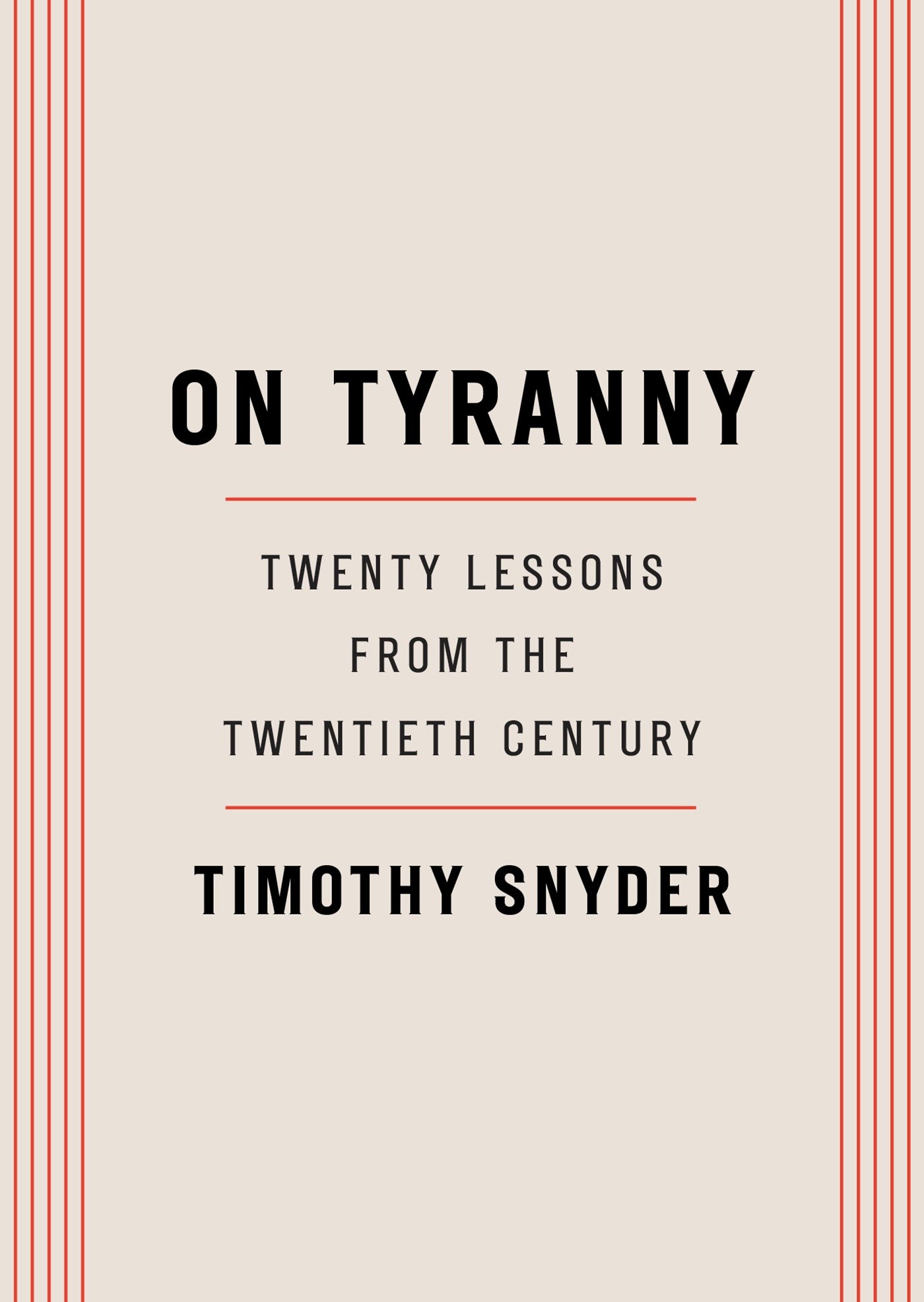 As I walked into my local library toward the new release shelf, this little book seemingly screamed, "Read ME!" Flipping to the back of the book cover I read these words:
"The Founding Fathers tried to protect us from the threat they knew, the tyranny that overcame ancient democracy. Today, our political order faces new threats, not unlike the totalitarianism of the twentieth century. We are no wiser than the Europeans who saw democracy yield to facism, Nazism, or communism. Our one advantage is that we might learn from their experience."
Hook, line, and sinker I judged the book by it's cover, added it to my stack, and a quick barcode scan later walked out into the warm evening with my new (to me) discovery.
This book surprised me as it challenged my point of view. When I walked out of the library with "On Tyranny" I fully expected to read something that I completely agreed with and would absolutely love. In truth, at one point I almost did not finish reading it because on the surface Mr. Snyder and I seem see the world through diametrically opposed lenses. I did finish it, and I am glad that I did, because while I do not agree with some of the conclusions Mr. Snyder draws, he makes solid arguments and the truth of his 20 lessons can not be discredited.
Die hard pro-Trump supporters that refuse to see any flaws in our current president would do well to avoid reading this book. Those of you who are willing to have your views scrutinized would do well to consider picking up this tiny tome and taking time to reflect. Mr. Snyder does little to hide his contempt for President Trump in this book. This is my only complaint with the book, and at the same time I give Mr. Snyder credit for standing true to his convictions, after all it is his book.
Once past the initial shock of realizing that this book was written from a different world view than my own, I was able to dig in and get to the meat of the book. The 20 lessons put forth in "On Tyranny" deserve serious consideration. Lesson 10 states it best:
"Believe in truth. To abandon fact is to abandon freedom."
The facts of what happened in the 20 th Century can not be changed, but we can learn from them. No matter what side of the political aisle you fall on, truth is truth, and Mr. Snyder has put together a solid game plan on how to combat against Tyranny.
I would recommend reading "On Tyranny". If forced to give it a star rating, I would give it a 3.5 out 5 stars, but mostly because I do not agree with the point of view Mr. Snyder has, not because I disagree with his points. I don't know if that is fair to him or not, but the book had the potential to be a wonderful, simple primer on combating Tyranny and unfortunately became a mild propaganda piece that will loose some validity once the current presidential term is over. The book is still worth reading for the lessons drawn from history. The book is short, easy to read, and worth the time spent. If you read it with an open mind you will learn some valuable lessons.